FORBES RESTAURANT HISTORY
Since 1921, Forbes Seafood Restaurant has been serving beach goers, tourists and townies from their Wells Beach location. This seasonal (family run) restaurant serves breakfast, lunch and dinner at the height of the season 7 days a week. For over 85 years the Forbes family has been serving tasty fried seafood, home made onion rings, pizza, beer and wine, ice cream, popcorn and fresh ground hamburg.
The current Forbes Seafood Restaurant is a modern, casual beachside restaurant with indoor and outdoor seating, plus take out windows. The take out window is open at 7 am serving coffee, juice and homemade muffins (blueberry, cinnamon chip or corn). By 7:30 am the dining room opens, serving a full breakfast. Eggs & bacon, french toast, pancakes, fresh cut fruit and everyone's favorite breakfast sandwich. Many customers enjoy going to the beach early, getting their parking space for the day in the adjacent lot, buying their breakfast at Forbes and heading to the beach for the day. 11 am is when breakfast stops being served and our lunch/dinner menu is available.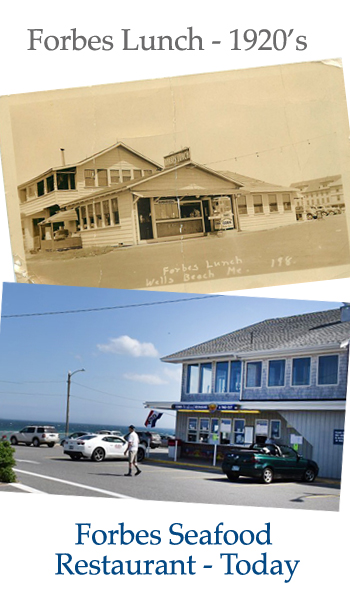 LOCATED IN HISTORIC CASINO SQUARE
Vander Sr. and Marguerite Forbes founded the motel that is now Lafayette's Oceanfront Resort, the major business in today's Casino Square. They started working at Wells Beach around 1919. The first building was the Marguerite Hotel, which was named for Marguerite Forbes and stood where the Driftwinds building now stands. The Marguerite Hotel was razed in 1965 and on that site are now located the Lafayette's Deluxe and Panorama buildings.
Vander Jr. worked in the family business, attended Maine Maritime, and then served his country in the US Army during the Korean War. He continued to work at the hotel and married his wife Mary, who was an English teacher from Massachusetts. Around 1965, Vander Jr. and Mary Forbes built the Wells Beach Motor Inn and began keeping the hotel open year round. The Beach Front Lodge was built in 1973 and the Ledgeview Inn was built in 1988 on the site of the former Casino.
Vander and Mary ran the former Wells Beach Casino, which had a bowling alley and dance hall, and was a landmark building in its day. They built a new landmark in the Ledgeview Inn that has great ocean view rooms and an indoor pool and hot tub.
Vander and Mary Forbes have always been generous with their time and money. Vander served on the Wells town board of selectmen, board of directors for Ocean National Bank, with the Maine Innkeepers and many other civic organizations. If you ride around Wells, you will see some of the many donations that Vander and Mary have made such as Forbes Field for track or the lights they gave for night football games. Vander and Mary also have endowed a scholarship fund that will enable deserving Wells students to further their education if they do not have the means.