Join Us For Breakfast, Lunch, Dinner & Ice Cream
We are located directly at Wells Beach, at Lafayette's Oceanfront Resort.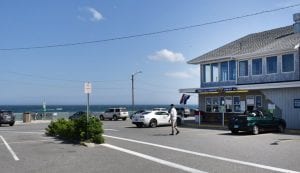 The take out window is open at 7 am serving coffee, juice and homemade muffins (blueberry, cinnamon chip or corn). By 7:30 am the dining room opens, serving a full breakfast. Eggs & bacon, french toast, pancakes, fresh cut fruit and everyone's favorite breakfast sandwich. Many customers enjoy going to the beach early, getting their parking space for the day in the adjacent lot, buying their breakfast at Forbes and heading to the beach for the day. 11 am is when breakfast stops being served and our lunch/dinner menu is available.
Forbes Restaurant History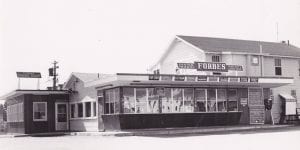 Since 1921, Forbes Seafood Restaurant has been serving beach goers, tourists and townies from their Wells Beach location. This seasonal (family run) restaurant serves breakfast, lunch and dinner at the height of the season 7 days a week. For over 85 years the Forbes family has been serving tasty fried seafood, home made onion rings, pizza, beer and wine, ice cream, popcorn and fresh ground hamburg.